The Future of Content Marketing
< Back to main blog
Video and How It Impacts Your Website Design and Marketing
The majority of web content that you find is written. There's even a classic quote that sums up this current reality pretty well:
"Web design is 95% typography."
While that might be the conventional wisdom out there at the moment, this isn't going to hold out for that much longer. Already the winds of change are on the horizon in web design, and you should be at the forefront of it.
What are we talking about?
We're talking about video, particularly video content. Moving forward, much of the content that your customers consume will be video. Think of it as the move away from the written and with full force to the visual.
This big trend shouldn't be that surprising, actually, when you look back to where we've come in web design in the last several years. Whereas it used to be quite standard to simply build a site that featured a lot of written content right on the homepage, more recent design trends (minimalism, parallax scrolling, flat, Material) put an emphasis on other elements like colors, clean edges and images or illustrations instead.
These trends have cut down on written content already. Therefore, it's no surprise that we're now moving one step beyond that: straight into video content overtaking written content.
What Do the Stats Say?
One of the most widely cited stats by proponents of video content is rather surprising. According to a Cisco white paper, by 2019, 80% of all consumer Internet traffic will be video:
"Globally, consumer internet video traffic will be 80 percent of all consumer Internet traffic in 2019, up from 64 percent in 2014."
That's just three, short years away!
Another interesting stat from Cisco's white paper is the fact that video content will be shooting up by 16% in only five years. That's tremendous growth for a medium that's hardly new. This means that the great majority of the way your site visitors, leads, readers and customers consume web content will be visual.
So why not give it to them and join this huge sea change away from written content?
The other big takeaway is how this rapidly increasing video content will be consumed. Because of the mobile explosion—both in the number of users and the length of time per session per user—this increasing video content will be driven by mobile and mobile users. Last year alone, 51% of the time per day spent by American adults on digital media, which significantly includes video, was done on mobile.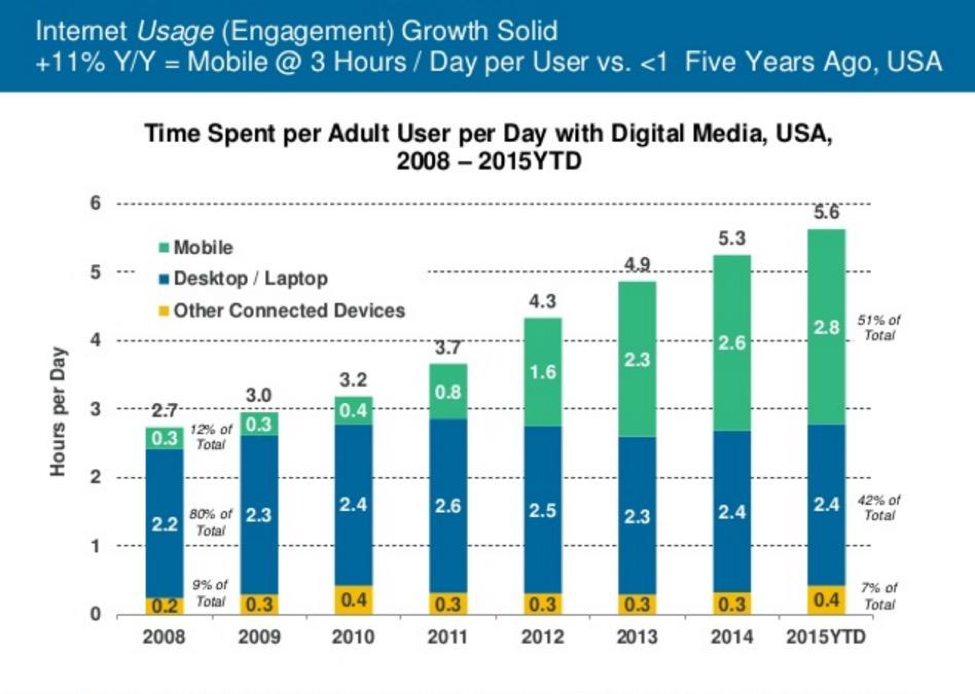 Image From KPCB
So it's not just important to understand that you have to incorporate more video into your content—website, marketing, social media, etc.—it's vital to do it on mobile, too.
This hard data also just reinforces user habits when it comes to video. Take, for instance, the fact that the majority of people watching videos on YouTube does so on their mobile devices and that they spend more than 40 minutes, on average, per viewing session.
Naturally, this has enormous implications for your website and how you design. Video has to be front and center of your site, but how?
Case Studies: Uses
You'll see a huge impact when you start using more video in your content. On the actual design side, this means finding spots in your pages' user flows that harmoniously support video. You just don't want to stick a video onto your homepage, for example, just to boast that you "get" video content.
There has to be relevancy—that's when it'll click with your visitors and leads.
The Explainer Video
Perhaps one of the most well-known uses of video today is the explainer video. An explainer video offers a quick (usually no longer than a one- or two-minute duration) synopsis and walkthrough of your product or service, which is presented in an accessible, straightforward and casual way.
One of the more famous uses of an explainer video was Dropbox's. Years ago, before it became the cloud-sharing powerhouse that it is today, the company struggled to make a name for itself. What it did was use an explainer video, which helped it to go from an obscure cloud service to a company that got 10 million new users from said video alone! Talk about maximizing marketing!
Sure, the company also used a viral-referral and brand-evangelism campaign to bring people to their site in the first place, but once they were there, the explainer video did all the work for the brand. Paired with the download call to action button, the two elements were the only things on the entire Dropbox homepage at the time, thereby directing all visitor attention to the company's service and downloading of it.

Image From YouTube
Here's the Dropbox explainer video that put this company on the map. You'll note the following traits of the video:
A super-simple analogy that's easy to understand
An easygoing voiceover
Use of drawings and illustrations to help the explanation
Non-"jargony" and accessible language
How to Implement This on Your Own Site
As long as you're selling a product or service, you can use the all-powerful explainer video to make your case to your leads and customers.
You don't have to go overboard to produce a basic explainer video, but understand that there's going to be a fair cost involved. Estimates are usually for between $5000 and $10,000 for a reputable production. Since your video will be educating people about your product or service—and, in many cases, be the first introduction to your product or service—it definitely pays to invest a fair amount upfront for a great return later on.
Once the video's been produced, there's the matter of finding the perfect spot for it. Explainer videos work great on the homepage since that's usually the first page visitors land on. Unlike Dropbox, you don't have to make the video the standalone centerpiece of your page.
You may want to put it above the fold, so there's really no way visitors can miss it. Of course, if you're telling a compelling brand story, you may want to only position the explainer video after all of your engaging content that introduces your product or service, which means below the fold.
Use A/B testing to also help you find the best position for it!
The Testimonial Video
The testimonial video is a stellar example of taking something from the written form and then applying it to the increasingly popular format of video. The great news for your brand is that people tend to believe video testimonials more than mere written ones.
In an article focusing on the merits of testimonials, Entrepreneur recommends businesses use video testimonials on their sites if they can, citing the increased level of personal connection that video brings.
What makes this form of video so powerful is you're not just having a satisfied customer write about how good your brand is—you're having them actually speak on video to testify for your brand! That resonates stronger with your visitors than just a written testimonial.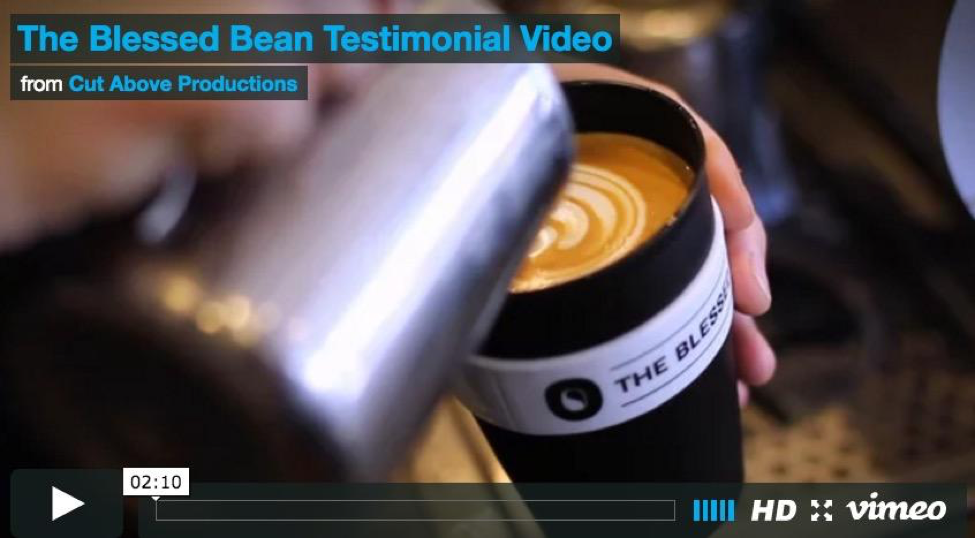 Image From Animoto
The powerful, psychological factor at work with testimonials is social proof, which is taken up several notches with video. Social proof is essentially when other people or brands are using your product or service—and then tell others or talk about it. So the more people or brands, especially authority people or brands, who are featured in your video testimonials, the more social proof your site receives. This boosts conversions.
How to Implement This on Your Own Site
You have a couple of choices with video testimonials. You can go the immediate, in-your-face route and splash your video testimonials right on your homepage, ensuring that visitors can't miss it. Of course, that may result in a more cluttered homepage than you want since other homepage elements traditionally competing for attention include your:
Value proposition
Headline
Subheadline
Benefits
Description (of your product or service)
Images
Navigation
Alternatively, you can always set up a dedicated, standalone page on your site that's exclusively devoted to testimonials. Many brands already do this, and with good reason.
Setting up a dedicated testimonials page simply lets you show off more testimonials and also more detailed testimonials that work to persuade your leads and customers more successfully.
If you have entire pages set aside for different parts of your business—such as an about page and a blog—then why not also one specifically for testimonials?
Remember, on the Internet, social proof is everything, and video testimonials are one of the most surefire ways of increasing it for your brand.
The Product Video
In e-commerce, your customers can't examine a product or turn it over in their hands as they would in a brick-and-mortar store. In order to reassure your customers that what they want to buy is high-quality and what they expect, you have to bridge this gap between the impersonal nature of the web and the traditional way of analyzing a product before it's bought.
Video is the way to bridge this gap.
Product videos empower your customers to see your products from different angles and viewpoints, which is something that limited product images just can't do. This is almost as good as being able to inspect the product in store and in person.
Product videos are also helpful to the user experience in another, important way: They can provide detailed explanations and walkthroughs of products that are not as simple and straightforward as, say, a piece of clothing.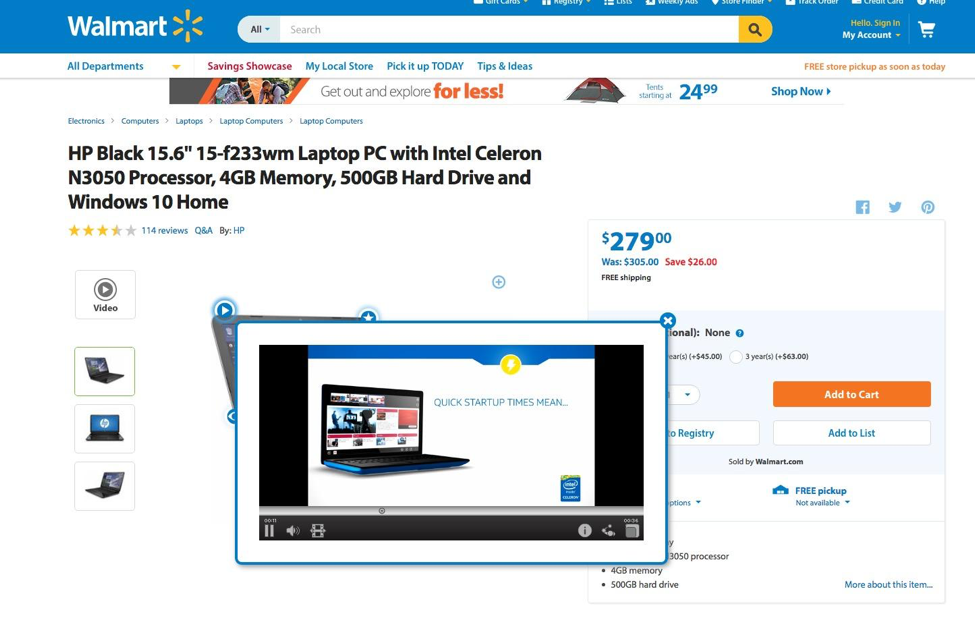 Image From Walmart
When your products are more techy, like immersive video games or personal digital assistants, then video walkthroughs are just as good as being in a store and seeing the product for yourself!
Further, the benefit to using product videos should also be clear: They help to boost conversions. The bottom line is all that matters at the end of the day, and having beautiful and engaging product videos on your site is another effective strategy you can use to boost sales.
How to Implement This on Your Own Site
If you're running an e-commerce store, then you want people to notice your product videos right off the bat, so put them above the fold and toward the top-left of the page. This positioning is in line with how people ordinarily consume content on the Internet, according to the UX experts at the Nielsen Norman Group.
People usually start looking at content on a page in an F-shaped pattern, beginning around the top left of the page, scanning horizontally in two lines and then finally proceeding vertically, again down the left side of the page.
Sites Already Using Video to Great Effect
To get an idea of how you should start using video more as part of your content, we have to look at sites that are already implementing this seamlessly. Here's some inspiration from different brands.
Gigtown
Gigtown is a service that lets people discover the local artists in their area. On the site's booking page, the Gigtown founders appear in an explainer video to briefly walk users through the service's new "Post-a-Gig" feature.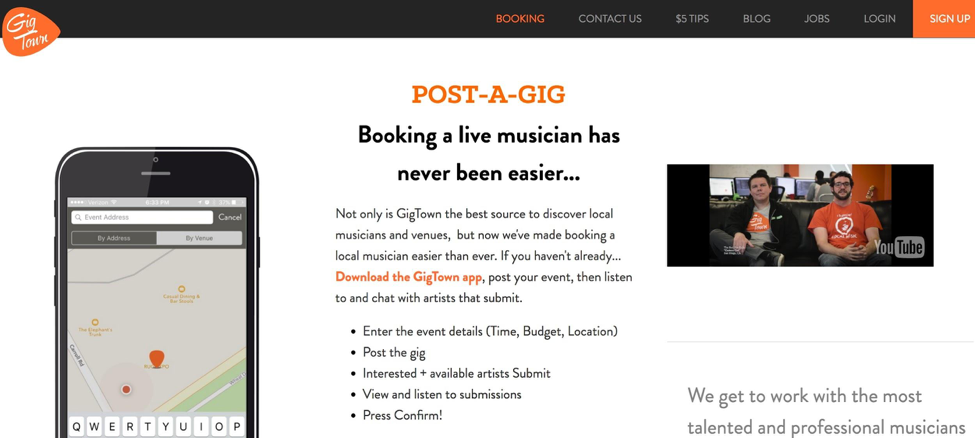 Image From Gigtown
Bluebeam
Software company Bluebeam doesn't only use video testimonials galore. It also reserves them for its special, standalone testimonials page. Not only do visitors see a bunch of testimonials on the page's sliding carousel, but it also features several video testimonials right beneath. The end result is a page powerfully pushing social proof to anyone who glances at it.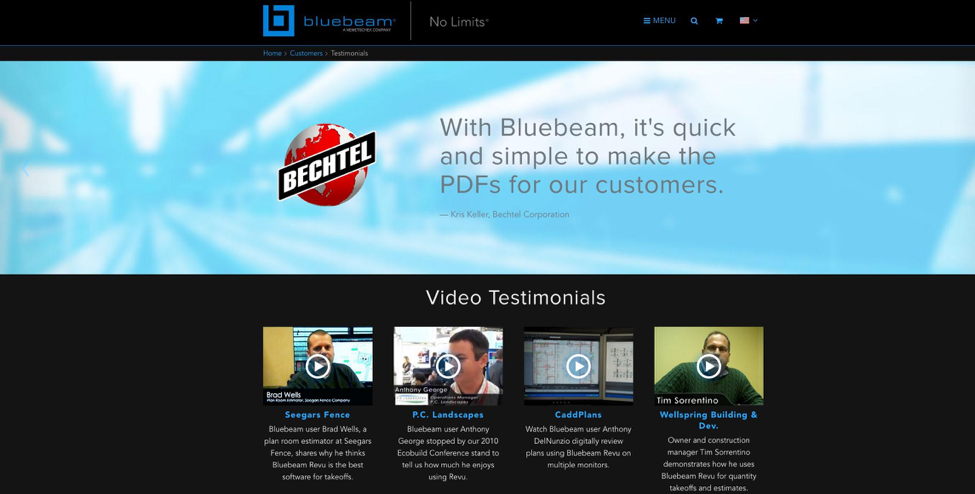 Image From Bluebeam
Amazon
If there's any place that knows how to do product videos right, it'd be Amazon, the world's biggest e-commerce store. Its product videos work well for various purposes.
On the product page for the Kensie off-shoulder dress, the video shows the model turning all the way around, so that shoppers can see the dress from different angles.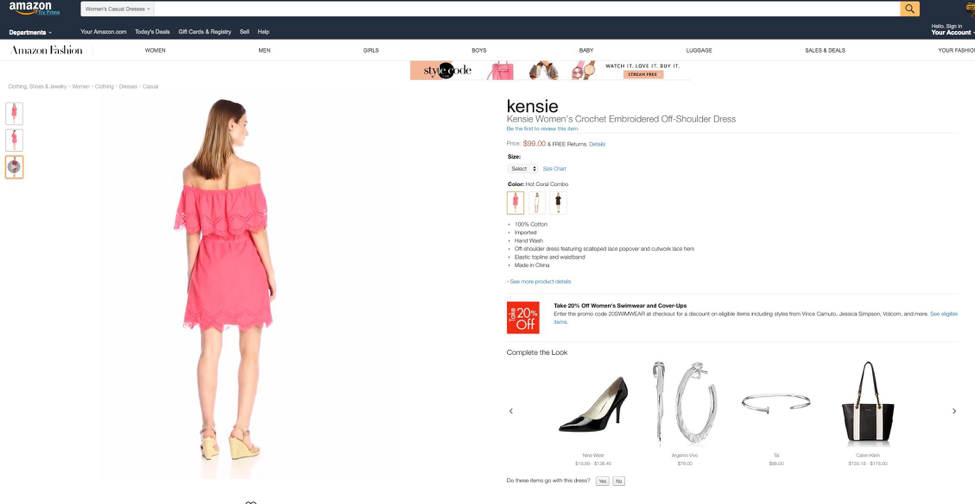 Image From Amazon
On the product page for the Amazon Echo, there's a slew of videos, ranging from very helpful walkthroughs of its features to shots of the product from different angles.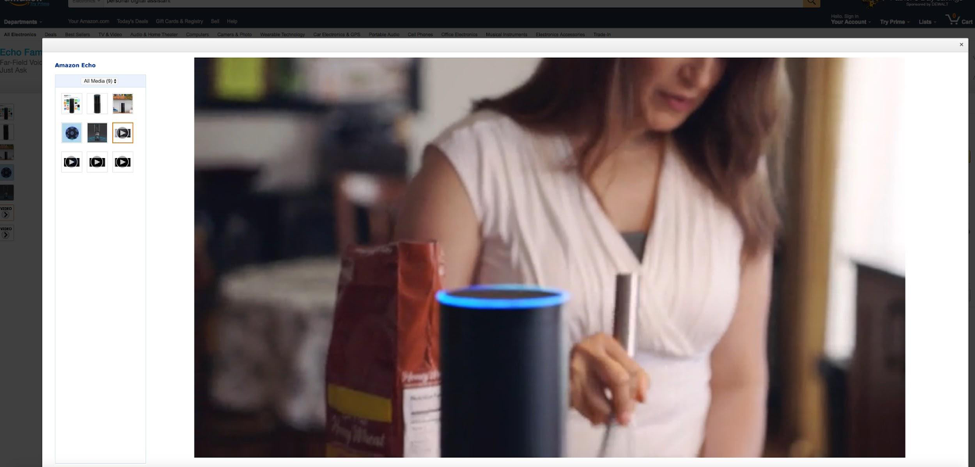 Image From Amazon
Video Works!
Video is a format that not only gets your site and brand results, but it's also the near future. With projections showing that the majority of consumer Internet traffic will be consumed by video in just the next, few years, it's vital that you appreciate what this looming trend can mean for your brand.
Video is easier to take in than written content because of the interactivity factor. Instead of your visitors and leads skimming line by line through text to find out about your brand, they can just take in a brief, entertaining video, which will tell them everything. This applies to explainers, testimonials and product videos.
So why not get in front of this shift before it's totally here? Many brands have already made the move, and many more will do so in the near future. Don't let your business get left behind.
If you enjoyed this article, please share it on Facebook, Twitter or LinkedIn!