Website Footer Best Practices
< Back to main blog
What's a footer?
Your website footer is probably one of the most overlooked and neglected areas on your entire webpage. Some users simply won't bother scrolling all the way down your pages, and even the ones who do may not scrutinize the footer with all too much interest.
So why is the footer of your site important, nonetheless?
It provides information that's crucial to your site's operation, which just won't be appropriate anywhere else on the page. A footer usually offers usability assistance like a sitemap, trust and credibility signals like a link to your company's contact information, and likely even legal jargon like your site's terms of use.
Familiar Design for a Better User Experience
Including a footer on your site means that you're designing your site in line with users' expectations, thereby making it more familiar to them. Familiar sites help the user experience, which only increases highly desirable outcomes like site conversions. In fact, Google research shows that users love familiar site designs—and the footer is essential in this aim.
In the footer's case, people who have been surfing the Internet for years simply expect there to be some written content at the bottom of a page, even if they don't always read it. It's simply a standard best practice that helps make your site visitors, users, leads and readers more comfortable in their navigation.
E-Commerce Store Locators
Many transactions happen on websites these days, but some shoppers want to buy a product from their favorite brand immediately and don't want to wait days until it comes to them through a package delivery service. These shoppers need to know where the nearest retail location of their brand is, and having this info handy in the footer greatly raises their user experience.


Image From Dove
If they're browsing on the site of their favorite brand, it's a huge comfort to find where they can go in person to buy their products.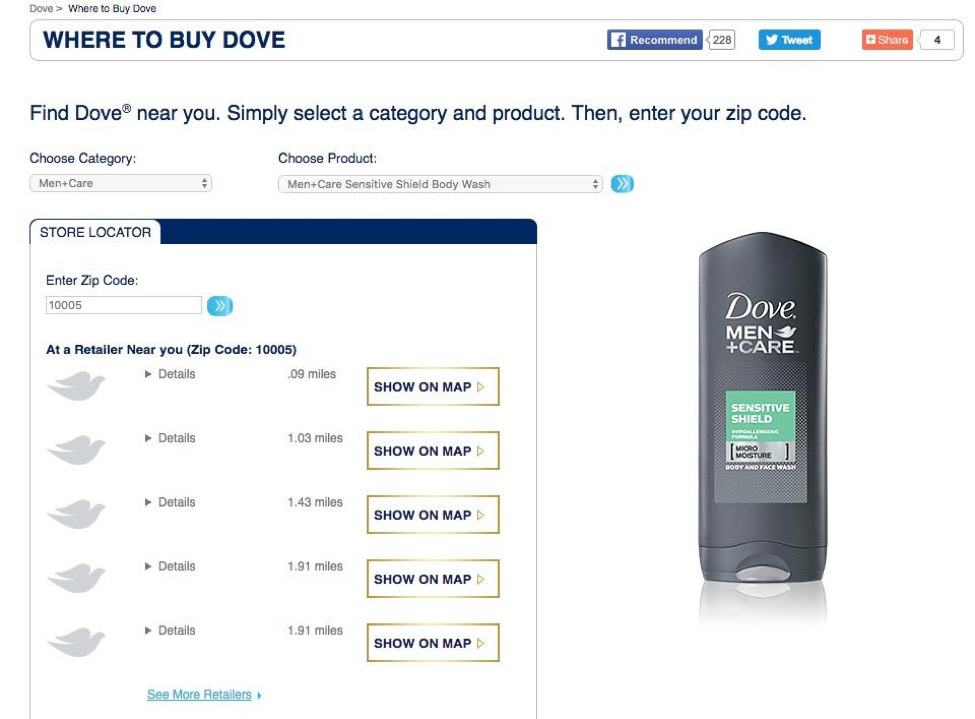 Image From Dove
Dove's site features a store locator in the footer, which opens up to a new page that moves shoppers across a few categories of products, prompts them to enter their zip code, and then gives them the nearest store locations where they can buy Dove products.
Social Media Buttons
Some companies love sticking their social media buttons in the footer because they believe their content is so strong and engaging that their site visitors will have no problem at all finding these below the fold. Putting social media buttons there is also a best practice, as quite a few sites are fond of this placement.
A prime example of this is Airbnb's website. The homepage of this sharing-economy company's site is a long-scrolling page that is bursting with helpful and interesting info for people looking to find lodgings or rent out their place to travelers. Whether it's finding a place to stay, exploring different cities, looking at weekend getaways, or getting involved in Airbnb's lively community, people are engaged enough to scroll all the way down the page.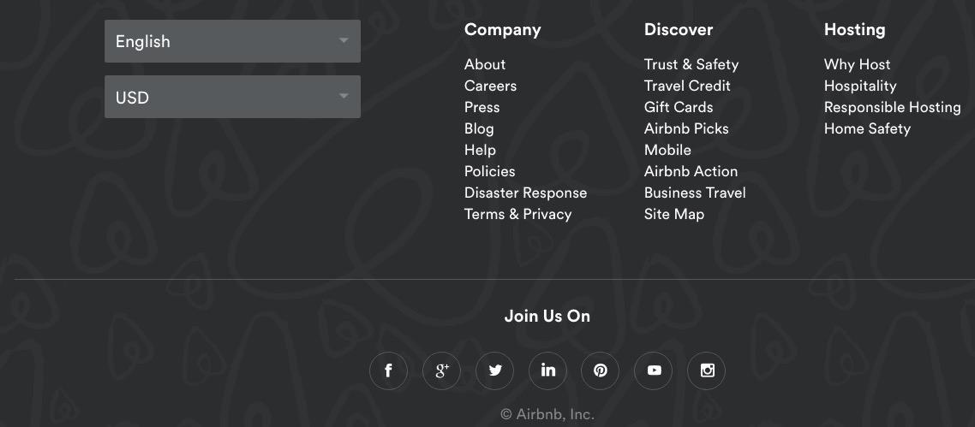 Image From Airbnb
At the very bottom of the footer is where you'll see the company's slew of social media buttons. Interestingly, the buttons aren't very big or even stand out with much color contrast, again, because the company's so confident that people looking to understand how its service works will be highly engaged enough with the page to look at these page elements very closely.
Trust Signals
What are trust signals? Trust signals are page elements that make your leads and customers more confident about converting and buying from you. They put any doubts to rest by increasing your legitimacy as a trustworthy business, organization or publication.
Trust signals are very interesting because different kinds of trust signals can usually appear in your footer.
Examples of trust signals are contact information, an About page link, a contact form link, and even the above mentioned social media buttons.
The Lily Camera's website footer features many trust signals that all come together to assure leads and customers that the company behind it is 100% above-board. It features links to its About page, contact email address, and social media buttons all in near proximity to each other.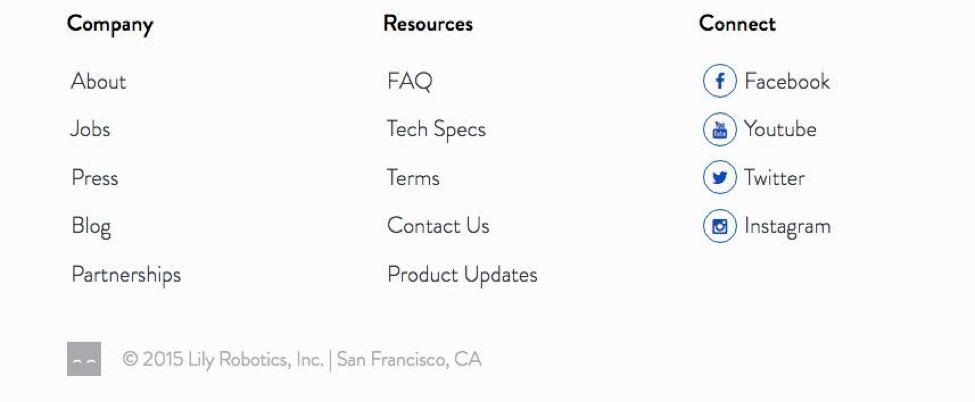 Image From Lily Camera
As a result, visitors understand that there are real people behind this venture who can be reached in case there are any questions or uncertainties.
Sitemap
The sitemap is a huge plus for the user experience, as disoriented users (and those who simply want to find something fast and don't want to spend a lot of time browsing for it through the navigation menu or search field) can visit it to quickly understand a site's layout.
It's usually just a well-organized and bare bones outline of all the different categories and page links on the entire site. This makes it an excellent starting point for somebody who has never browsed a particular site before and wants to get a better sense of what the site's all about.


Image From Entrepreneur
Entrepreneur's site features the sitemap in the bottom, right corner of the footer. Thanks to the white-on-black color contrast, users should be able to spot the link quickly in spite of its small typeface.
Just Because It's Below the Fold Doesn't Mean the Footer's Useless
One reason the footer is probably taken for granted is because it's under the fold, and some people still think that content under the fold isn't likely to get read. When we look at the data, however, this is far from the truth:
All this means that people do read below the fold, so you should have a beautifully and functionally designed footer waiting for them!